The Quicksleeper System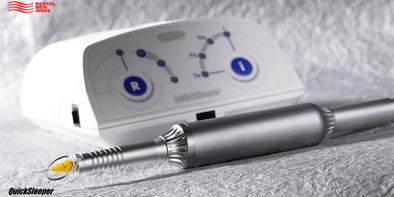 Quicksleeper is the most technologically advanced system that delivers effective anaesthesia quickly, easily, and painlessly. Also, unlike traditional methods, the Quicksleeper system does not cause side effects like numbness of cheeks, lips and face.

The Quicksleeper system provides anaesthesia:
Pain-free
Immediately
Effectively even with pulpitis
For several teeth with only one injection
No soft tissue numbness
Additional palate anaesthesia is unnecessary
One injection allows:
Immediate anaesthesia of 2 to 6 teeth at once
Instant anaesthesia even when faced with pulpitis
Complete elimination of soft tissue necrosis risk
Absence of soft tissue anaesthesia
Additional palate or tongue anaesthesia unnecessary even for extractions.